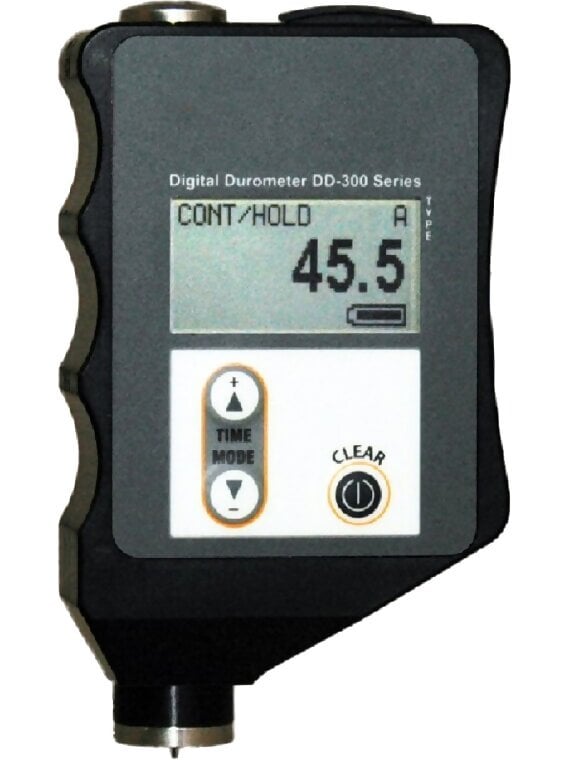 ---
Highly accurate and repetitive
---
Timer function to take measurement after (0-15) seconds
---
Conform to DIN ISO 7619-1, ISO 868, ISO 7619-1 and ASTM D 2240
---
Our new DD-300 Durometer range takes rubber / plastic hardness testing to the next level.
This DD-300 hardness tester has been designed to have almost no internal friction and therefore meets the highest quality standards.
The entire internal movement is guided by bearings and makes this one of the best digital durometers available today.
The DD-300 Durometer is available in Shore A, C, D, O, OO, AO, DO and Asker C.
DD-300 Digital Precision Durometer
Plastic foam fitted case
AC power supply (100 - 240)
Manual
Calibration Certificate
Battery
Highly accurate and repetitive
Measuring Modes:
Timer function to take measurement after (0-15) seconds
Conform to DIN ISO 7619-1, ISO 868, ISO 7619-1 and ASTM D 2240
No internal friction due to precision engineered bearing system for internally moving parts
| | |
| --- | --- |
| Measuring range | 0.5 - 100 units |
| Resolution | 0.1 |
| Display | LCD digit 8 mm high |
| Data Output Port | Opto RS232 |
| Battery | Re-chargeable 3.6V 1/2AA Size LI-SOCl2 |
| Continuous Operating Time Battery | Approx. 18 hours |
| Auto Off | After approx. 1 minute |
| Power Supply | Input - 100-240 VAC | Output: 5 VDC 650mA |
| Dimensions | 112 x 64 x 26 mm (HxWxD) |
| Weight (net) | 250 g |
| Warranty | 1 year |
| Accuracy | 0.5 |

Conformance to International Standards

Model
ASTM D2240
DIN 53505
ISO 868
ISO 7619
DD-300-A
DD-300-B
DD-300-C
DD-300-D
DD-300-DO
DD-300-O
DD-300-OO
A
Flat cone point, 35 Included Angle
Soft rubber, plastics, and elastomers, printer's rolls.
822 Gr
B
Sharp cone point, 30 Included Angle
Harder elastomers and plastics. Paper and fibrous materials, Use above 93 Duro A.
822 Gr
C
Flat cone point, 35 Included Angle
Medium hard elastomers and plastics. Also useful to avoid surface marks.
4536 Gr
D
Sharp cone point, 30 Included Angle
Hard rubber and plastics such as thermo plastics, flooring and bowling balls.
4536 Gr
DO
3/32" Spherical
Dense granular material, textile windings.
4536 Gr
O
3/32" Spherical
Very soft elastomers, textile windings, soft granular materials. Use below 20 Duro A.
822 Gr
OO
3/32" Spherical
Light foams, sponge rubber gels, animal tissue.
113 Gr