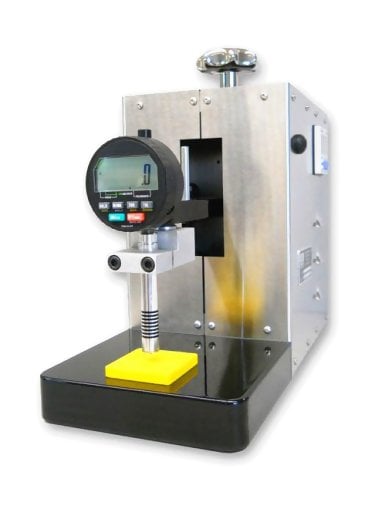 ---
Durometer Sold Separately
---

The Rex OS-AUTO Motorized Durometer Test Stand provides constant load, controlled rate of descent, and application velocity, through a geared electric motor and braking mechanism that alternately lowers the durometer onto the specimen and then raises it in preparation for the next test.
This Rex OS-AUTO also provides an electronic timer that can adjust the amount of time the durometer remains in the lowered position (dwell time).
The durometer and carriage assembly have a mass sufficient for use with Types A, B and O. The incorporation of the large detachable mass is required for testing with Type C, D and DO durometers. This detachable mass can be purchased separately. The OS-AUTO can also be configured for use with durometer Types OO, OOO and OOO-S.
Adjustment of the durometer for specimen thickness is easily accomplished by a height adjusting knob on the top of the stand.
Durometer Scales
No mass:OO, OOO, & OOO-S
Small mass:A, B, E, & O
Large mass:C, D, & DO
Over Dimensions (DxWxH)
13 x 6.125 x 9.75 in (356 x 156 x 248 mm)
Specimen Table Dimensions
7 x 6 in (177 x 182 mm)
Throat Depth
3.25 in (83 mm)
Throat Height
3.125 in (79 mm)
Weight (without additional mass)
35 lb (16 kg)
Specimen Thickness
Minimum:0.240 in (6 mm) per ASTM D2240
Maximum:varies with durometer model; ~3 in (75 mm)
Timer Operation
0 through 9999 seconds
Power Requirements
120 VAC 60 Hz | 240 VAC 50 Hz optional
Operating Temperature
73.4 3.6 F (23.0 2.0 C)
Includes NIST-Traceable Calibration Certificate
Conforms to ASTM D-2240, DIN 53505, ISO 868, JIS K 7215 and ISO 7619. Asker C model conforms to JIS K-7312.
18 mm diameter footer provides stable basis for testing and conforms to all International Standards
DD-100
Digital Durometer Tester

High and low buttons for setting tolerance limits
Holds Peak reading until reset
0.1 Unit Resolution
Conforms to ASTM D-2240, DIN 53505, ISO 868, JIS K 7215 & ISO 7619. Asker C model conforms to JIS K-7312
Includes NIST-Traceable Calibration Certificate
Conforms to ASTM D-2240
Includes NIST-Traceable Calibration Certificate
Conforms to ASTM D-2240