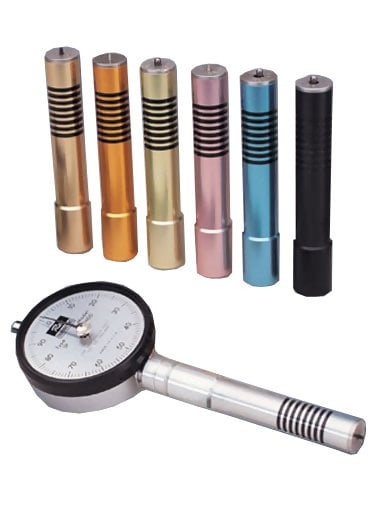 ---
Available Scales: A, B, C, D, DO, O, OO, OOO
---
Conforms to ASTM D-2240
---
For the technician that must perform hardness tests on various types of non-metallic materials, we offer the Rex RX-MS Multi-Scale Dial Shore Durometer.
The Rex RX-MS Multi-Scale Dial Shore Durometer base kit consists of an analog display with a type A, D and OO durometer barrel. A complete kit is supplied with an analog display and A, D, B, C, DO, O, OO, OOO durometer barrels.
Changing scales is accomplished by unscrewing one barrel and replacing it with another - no supplementary calibration or adjustments are necessary.
A test block, calibrated to the selected scale is also included. The block allows the user to perform quick functional checks on the instrument.
The indicator and barrels are made in the USA, and are calibrated to the ASTM-D2240 standard for durometer hardness testers.
Rex RX-MS Multi-Scale Dial Shore Durometer
A, D, B, C, DO, O, OO and OOO durometer barrels
Durometer test block
Instruction Manual
Carrying Case
Multi-Scale Durometer allows user to measure in a variety of scales with one guage.
Includes NIST Calibration Certificate
Measuring Range
0 - 100 units
Accuracy*
1 durometer unit (A,B,C,D,O,DO)
2 durometer units (OO,OOO)
Dimensions
2.25" x 6.125"H
Weight
6 oz.
* Note
per ASTM D 2240-05, Sect 9.3: It is accepted that durometer readings below 20 or above 90 are not considered reliable. It is suggested that readings in these ranges be omitted.
We offer a complete line of durometer test stands. The stand, when used in conjunction with a Durometer, eliminates operator error sometimes associated with hand-held durometer testing. Our stands feature a load weight for the proper testing pressure as noted in ASTM D2240, and a quick-lock column for easy adjustment.